How a housewife fights against Covid in 2022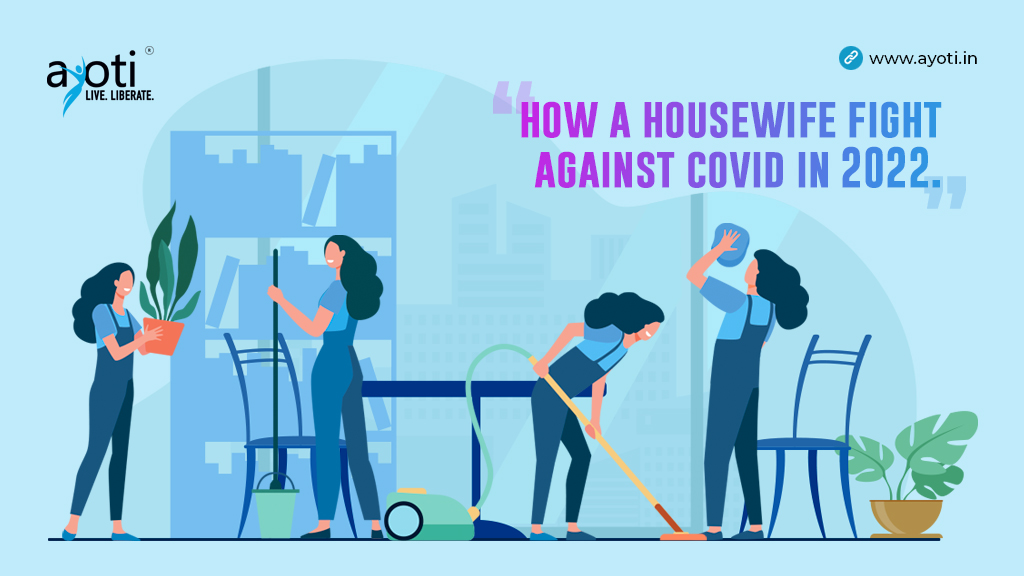 Our lives have been full of ups and downs due to the pandemic. With the surge in Omicron, the third wave of Covid, restricted movements, and erratic eating and sleeping patterns are only a few habits that have started creeping upon us again. So, what have been the most difficult challenges for women during this current WFH period, and how can homemakers fight against COVID?
During the 2020 COVID-19 epidemic, lockdown severely impacted homemakers' psychological stress. Their responsibility expands as parents are expected to be a teacher to their children while simultaneously overcoming financial difficulties and handling household chores. This situation has not changed even now in 2022.
Even though men are stepping in and encouraging and supporting their better halves with their share of responsibilities, conventional families even today disapprove of mothers leaving their young children in the care of a babysitter. Furthermore, once they come back from work, they must resume duties as homemakers and mothers. This can become too exhausting for women and can take a toll on their health.
 Work from home is an excellent option, especially for women after motherhood, as it becomes a convenient option for them to focus on their baby and continue their careers in parallel. The Hindu government is working on schemes that will help women be financially independent by providing many work-from-home opportunities in the IT sector.
Many companies are posting remote working job opportunities for women who want to make a comeback or want to set their careers. And with tools such as Google Meet and Zoom, things are getting much easier to connect anywhere in the world.
Nevertheless, gender disparity still exists, especially on the career front. However, society's mindset towards women needs to change long-term. An IMF report says that India's GDP will go up to 27% if gender equality is in the workforce. Moreover, it gives women a chance to keep working and be independent even after getting married or becoming a mom.
Women empowerment websites such as Ayoti promote an e-learning platform for women and provide them work from home opportunities for them to grow.
Benefits of Work from home
Numerous job opportunities can be accomplished from home by salaried employees and freelancers. Data entry, content writing, marketing, and other promotional content jobs are the most frequent types of employment that may be done from home.
Many web-related chores can be completed from the comfort of your own home. Web design, product design, website testing, and technical support are all tasks that women can work on.
Hiring a virtual assistant is now cheap and more convenient than hiring a secretarial crew. Many organisations and companies engage virtual assistants to handle all secretarial tasks from the comfort of their own homes.
Medical transcriptionists, call centre executives, travel agents, tutors, social media managers, and editors are all jobs that can be done from home. This job can be salaried or freelance, and it provides opportunities for women to re-enter the workforce.
Bookkeeping accounts, therapy sessions, event planning, and even translation assignments are examples of work women can do from home.
Learn from home benefits
Learning new skills is a great way to enhance your career for job openings. Many learning skills online make it easy for you to boost your skillset and qualify you for job openings. Review different skills and identify the ones that are ideal for you.
Coding – basic coding skills can help your team launch an app or optimise the website for search engines.
Spreadsheets – Excel skills are used in every business to manage company data. People who have even basic spreadsheet skills can be very resourceful as they know how to use the formulas effectively and other features in Microsoft Excel to organise the data.
Language skills – make your job more valuable within any firm by improving your language skills.
Photography skills – photography allows you to boost the company's website or social media content. Such skills are priceless for companies that sell products such as high-quality photography and carry a high impact on sales.
SEO – search engine optimization plays a huge role in front lining a company in its online presence. Many online resources will teach SEO. They will be useful if you want to work in a marketing department or be an SEO specialist.
Women have not given up despite many challenging situations, and their resolute spirit is a fantastic example to move ahead.
Work from home opportunities and digital learning has created a platform for women to reach out to new heights and consider an optimistic approach to life. Platforms such as Ayoti encourage women to do their best by learning and providing various work-from-home opportunities.