Top 10 women empowerment companies in India 2022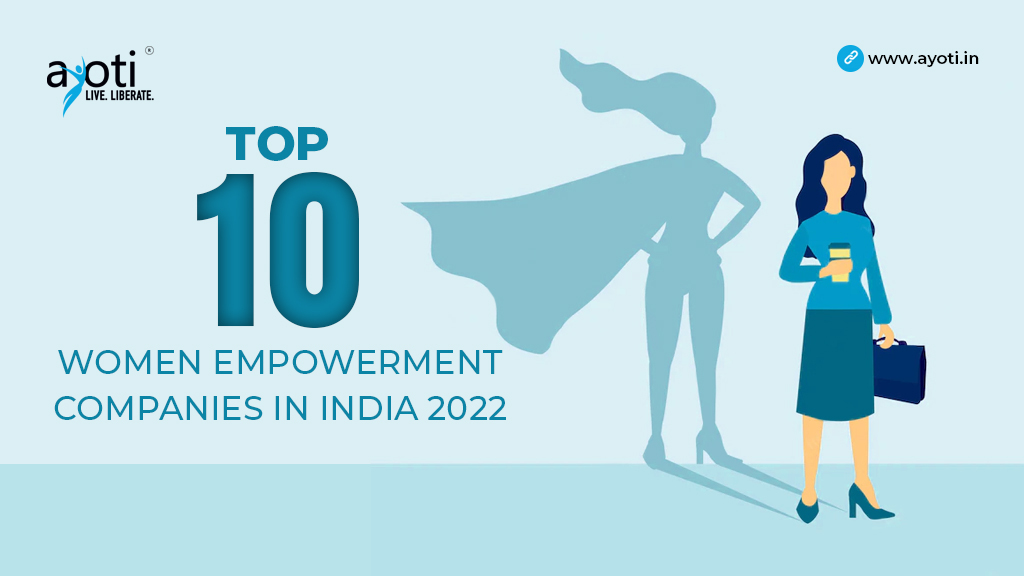 Successful female businesses are inspiring many aspiring female entrepreneurs. They have easily accepted their roles, whether they are the founders of flourishing startups or the CEOs of major international corporations. Here is a list of the top female business owners who have achieved success through hard work, optimism, and unwavering devotion to their ventures.
Whether you are a mom looking for a second start in your career or a student looking for companies to begin their internship, here are some of the best employers in the world. This includes top IT companies, FMCG and consultancy firms.
Recently, many top-rated companies in India's public and private sectors have introduced initiatives to encourage and empower their female staff to create jobs and enable them with financial independence.
Let's find out how, one innovation at a time, the women in our world are leading us to a better and more promising future. Here are the top female entrepreneurs to follow in 2022.
What defines a great workplace for women?
Here are some criteria that define the best places to work for women.
A significant percent of managers are women.
Returnship policies for women
Zero-tolerance against sexual harassment in the workplace
Flexible work hours, proper pay and remote work policies for women,
Paid leave to mothers apart from regular maternity leave for new mothers
Extra perks such as sponsoring infertility treatment for the female workforce
10 Best companies in India that encourage women's empowerment
    1. Accenture Solutions Private Limited
Accenture Solutions is one of the Fortune 500 companies that provide management consulting and other professional services, including digital technology, to its worldwide clients. It is believed to be one of the best companies for women in India, where there is no gender inequality and women employ excellent benefits to develop their careers.
    2. Cummins India Limited
Cummins India is one of the top manufacturers and distributors of generators, emission solutions, engines and electrical power generation systems in India.
The company is not only popular for being number one in the field but also for establishing the Cummins College of Engineering for Women, which endorses empowering women through education as part of its responsibility.
    3. Sandvik Group
The Sandvik Group is one of the leading global engineering groups in mining and rock excavation, metal-cutting and material technology.
Sandvik promotes diversity and is more effective in bringing value to the business by hiring talented female engineers. Their Code of Conduct and Supplier Code of Conduct prevents discrimination against women.
    4. IBM India Private Limited
IBM India is undoubtedly one of the best IT companies in the world and one of the best companies for women to work in India. Be it a safe work environment or growth opportunities, IBM has it all.
IBM has always been encouraging women and collaborated with Indian State Governments to promote education for girls in STEM (Science, Technology, Engineering and Math).
    5. Ayoti Technologies
Ayoti Technologies is one of the best companies to work with in India that empowers women all over the country. They have been offering work-from-home opportunities long before the pandemic, a huge hit among new mothers and women who want to work from home due to personal responsibilities.
    6. Hindustan Unilever Limited
All of us are aware of Hindustan Unilever Limited, one of India's top consumer goods companies. This company has been in the field for decades and still stands strong because of its ability to nurture jobs with flexible hours while supporting sustainable growth and gender equality.
Project Shakti aims to create more opportunities for women by training them so that they can earn their bread and butter and support their families.
    7. Tata Consultancy Services
Tata Consultancy Services is one of India's best and leading global IT companies. TCS was the platinum winner of the 'Empowerment of Women Award' at the Global CSR Conference in Bali, Indonesia, in 2016.
If you want to work in IT companies, TCS is hands down one of India's best companies, especially for women, due to its women-friendly policies.
    8. Tech Mahindra
Tech Mahindra Foundation is the leading IT firm's leading CSR hand in India, which recently launched an All-Women Tech Mahindra SMART Healthcare Academy in Mumbai. The company believes this new scheme can help women in India access education and career opportunities in the healthcare industry.
In 2018, Tech Mahindra went the extra mile to provide digital keychains, lockets and rings with GSM chips to ensure women's safety.
    9. Intel Technology India Private Limited
Intel India is one of the best 10 companies to work for women in India due to their gender equality and women empowerment policies.
Intel's "She will connect" program aims to connect women to the internet and help them learn basic technology skills to access information and learn basic technology skills to empower themselves.
    10. Ernst and Young (EY)
Conducting business as EY, Ernst & Young is one of the largest professional service companies in the world and is considered one of the big four accounting firms.
Diversity and Inclusiveness (D&I) is a big part of the EY culture where employees are motivated to bring their real selves to the company. Using Career Watch, EY nurtures high-performing women for leadership roles.
Their LGBTplus Allies network, Unconscious Bias, and Inclusive Leadership workshops ReWrite (second career program) encourage a zero-tolerance approach to sexual and workplace harassment.
They have also launched a Mentoring on Maternity (MOM) program that offers excellent benefits to new mothers, including 26 weeks of paid leave.
So, there you go – India's ten best women empowerment companies. Achieve financial independence and personal and professional growth while boosting India's economy with these companies.