How do women freelancers Survive and Thrive during the lockdown?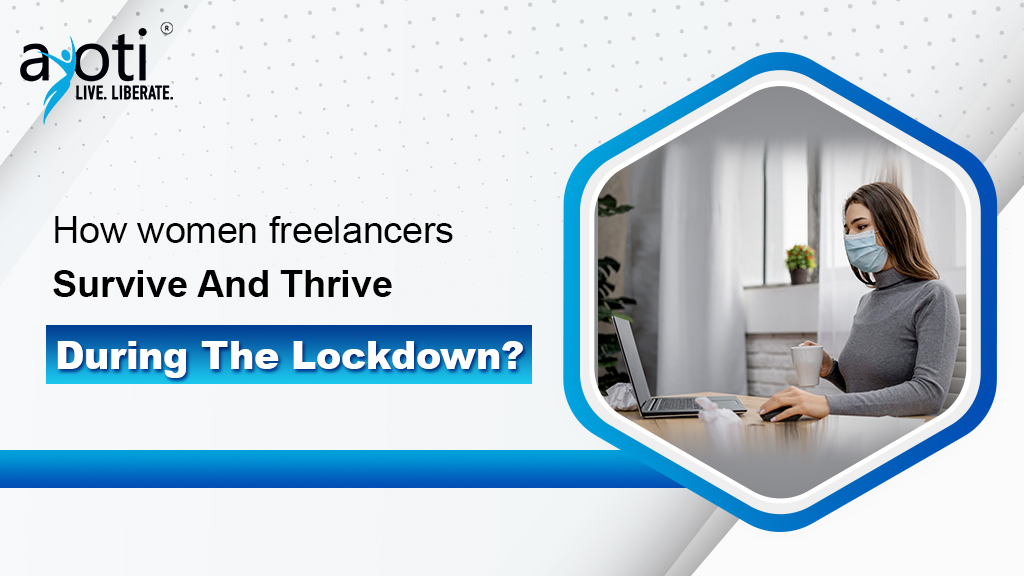 The outburst of the Covid-19 pandemic has left many people jobless, including full-time employees, not to mention gig workers. With organizations and the workforce facing tough times, freelancers, especially women freelancers, are experiencing risks of being ousted with the competition becoming severe than before.
Impact of Covid-19 on women freelancers
Implications on health
The spread of Covid-19 highlighted the significance of financial backup and support, especially in healthcare. Stating the obvious, independent workers don't carry the benefits of full-time employees, such as sick leaves and health insurance. Many freelance journalists, truck drivers, store workers, etc., lack proper health cover.
Drying up of work
The study has it that there is a 60% drop in new freelancing assignments compared to March. Furthermore, writers, photographers, designers, and others see a rapid decline in work and lack new assignments. Unfortunately, they are struggling to pay bills today.
Difference in Payments
With many organizations trimming costs and payments to workers, including freelancers, there is a big delay in proper payment.
A recent survey by Flexing shows that men, compared to women, are doing more freelancing and that women acquire less than men due to the gender pay gap because women consultants quote less fees than men with the same skills and experience. Data shows that the average income of women in freelancing is lower by 35% compared to men.
 How women freelancers survive this Covid-19 crisis
Freelancers understand the competition and the challenges of their work and have been taking proper measures, but the loss of work over the last few months has been overwhelming.
With little knowledge of what to expect over the forthcoming months, it is about preparing oneself. Treat this as a good time to learn more and build a resilient system to fight the current scenario.
Here are some amazing ways to survive the Covid-19 crisis.
Keep up the hope
There is a sharp decline in income as malls, NGOs, and corporate offices face financial crises in different ways. The lockdown is tough, darling, but so are you…!!! Many freelancers feel that keeping the hope up and maintaining the enthusiasm for life is one-way things will work out for the better.
Maintaining good mental health
In this financial crisis, as a freelancer, it is easy to lose hope and get worried about the uncertainties of life. If you are feeling overwhelmed, go for counselling. Many counsellors and therapists give online sessions for free to enhance positivity and maintain good mental health.
Control the urge to over-hustle.
Lockdown should not push one into overdrive. This is an unexpected and unique situation, and it's okay if you don't know what to do now. Please don't push yourself so hard that it leads to a mental and emotional breakdown. Don't try to see too much into the future. Take time for yourself.
Regardless of what you are feeling right now, your life is still very much under your control. The key is to keep yourself motivated, keep your mind free and occupied in a balanced way.
Isolate yourself for a while
Wise says that half the task is done once you start doing it. Give yourself a challenge – a 21-day learning challenge or writing challenge, spend time on your work and then wind up doing the things you enjoy the most.
To sum it up, here are the key points.
Hope is the only way to fight this unpredictable chaos. Take a deep breath, hold on to it and enjoy the benefits.
Don't put all your eggs in one basket. Avoid focusing all your time and energy on one single task.
Learn to love and respect yourself. Spend time with yourself and relax, which will be extremely fruitful to maintain positivity and patience in tough times.
Work may be limited, but perseverance should never be.
The thing about warrior women is even with lockdown, and they will find ways to tackle their problems even in the most difficult of challenges. Happy Freelancing…